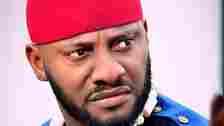 Actor Yul Edochie has reacted to his dad Pete Edochie's statement about marrying a second wife.
The 40-year-old and his second wife actress, Judy Austin, made headlines in April after the former announced his marriage to Judy. The actor also revealed they already have a son together.
The revelation sparked reactions on social media as celebrities and fans bashed him for 'cheating on his first wife'.
Pete, who had been silent on the matter, finally spoke up in an interview with Vanguard published on Saturday.
When asked how he felt about Yul picking a second wife, Pete said that although he didn't feel good about his son's decision, he would not fault him because Solomon in the bible also had numerous wives and concubines.
He said: I didn't feel good, but like I said I'm a Christian and I read the Bible. Solomon, with 700 wives and 300 concubines, was branded a man of wisdom. it's his choice and for whatever reason he decided to take a second wife, that's all I can say."
His response was shared on a blog post which the actor follows on Instagram. When Yul saw the post, he reacted in the comment section saying, "My matter still dey ground? Una wan use my own spoil other people own. Allow Wizkid and Uche Ogbodo to trend in peace naa. This is their time."