Douglas Luiz has labelled Arsenal forward Gabriel Jesus 'brave' on his Instagram after his World Cup journey with Brazil ended in injury.
The Aston Villa midfielder told Arsenal's summer signing 'you will come back stronger', as he is set to be out of action with a knee injury until January, according to Fabrizio Romano.
The 25-year-old was handed his first start at the Qatar World Cup on Friday by Brazil boss Tite, against knockout-hopefuls Cameroon, but it wasn't just the African side receiving bad news after the game.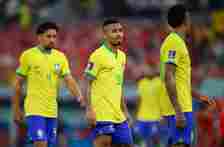 Even though Cameroon were 1-0 winners, they are heading home, along with Jesus, who will now need to recover as quickly as possible because Mikel Arteta's side are sitting at the top of the Premier League table.
Nonetheless, on Saturday evening, Jesus thanked everyone for their 'support' after his injury news, with Villa's Douglas Luiz posting in the comments section the following message.
"You're brave, brother," said Luiz. "Good luck in your recovery. I am sure you will come back stronger."
BRAZIL'S WORLD CUP CHANCES
Before a ball was kicked, many backed Brazil to go all the way and become champions of the world.
Even with Jesus' injury, that probably hasn't altered too much because he isn't the leading man up top, that's Tottenham's Richarlison.
Added to that, Neymar Jr', who hasn't played because of an ankle injury suffered in the first game, is also back on the field of play.
So, whilst this prevents Tite from looking to his bench and bringing on a player of Jesus' ilk, in truth, it shouldn't harm their chances of going all the way too much.