BJP Rajya Sabha MP Kirodi Lal Meena alleged the involvement of officers from the Chief Minister's Office and announced a march to Jaipur from Dausa with thousands of youths on Tuesday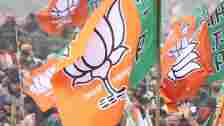 Representational Pic
Attacking the Ashok Gehlot-led Congress government in Rajasthan over a string of paper leaks, Rashtriya Loktantrik Party MP Hanuman Beniwal on Friday announced a major demonstration on the issue next week.
Beniwal also demanded a CBI probe into the leaks. He alleged that dozens of papers were cancelled due to leaks in the last ten years but the governments kept quiet whenever the involvement of any minister or bureaucrat was suspected.
At the same time, BJP Rajya Sabha MP Kirodi Lal Meena alleged the involvement of officers from the Chief Minister's Office and announced a march to Jaipur from Dausa with thousands of youths on Tuesday.
He also accused six Congress MLAs of being involved in at least four recruitment exam paper leaks.
Meena, however, refused to reveal the names and said he would disclose the identities of the Congress MLAs in the coming days. The BJP leader also accused an officer of the Special Operations Group of being connected to the accused in the paper leak case.
Both the leaders held separate press conferences on the issue and alleged the involvement of ruling party leaders.
The second grade teachers' recruitment exam was cancelled last month after the paper was leaked. Before that, papers for Constable Recruitment - 2022 and REET - 2021 were leaked.
Beniwal, the Rashtriya Loktantrik Party convenor, told reporters that he would hold a demonstration in Jaipur over the paper leak case on Tuesday, on illegal sand mining in Barmer on Thursday and on issues related to electricity in Ajmer on January 20.
He said law and order in the state had deteriorated under Congress rule and unemployment was at its peak.
The BJP's Meena also targeted Gehlot over the paper leaks and claimed that cheating had been done in online papers and it should be investigated in detail.
Suresh Dhaka, allegedly involved in the teachers' recruitment paper leak case and evading arrest, was behind the cheating in online papers in connivance with a private engaged to conduct the exams, he alleged.
Meena said he would hold a march from Dausa to Jaipur with thousands of youths against the state government and its failure to check cheating in exams and paper leaks.