Denmark were one of seven nations that planned to wear a OneLove armband during the World Cup games
FIFA threatened to punish any nation protesting Qatar's human rights record with the rainbow-coloured armbands
The Denmark Football Association have since confirmed they are considering withdrawing from FIFA
The fallout over FIFA's decision to ban the use of the OneLove armband continues.
Germany protested against the matter before their games against Japan, and Denmark are also looking to take action.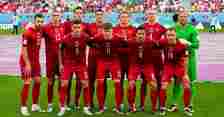 As reported by Football365, Denmark is considering withdrawing from the world football governing body, along with other nations.
Why are Denmark unhappy?
Denmark were among seven nations that planned on wearing the OneLove armbands, which represent anti-discrimination.
Exciting feature: Check out news exactly for YOU ➡️ find "Recommended for you" block and enjoy!
On the eve of the tournament however, FIFA announced it would show yellow cards to the captains of the sides if they wore the armband.
All seven nations refrained from wearing the armbands, but Germany did take some action.
What did Germany do?
As reported by The Mirror, German players blocked their mouths during the team photo, explaining that FIFA banning the armbands was equivalent to being silenced.
The German football association also revealed it would take FIFA to the Court of Arbitration for Sport as a result of the ban.
Denmark's stance on the matter
The Danish Football Association (DBU) discussed the punishment FIFA could impose and what they thought about it.
DBU CEO Jakob Jensen mentioned that FIFA explained to them that the 'minimum' punishment was the captain receiving a yellow card, but captains could also be given a ban.
The DBU has now stated they would not formally support Gianni Infantino's FIFA presidential re-election bid. They were also considering leaving FIFA once they had a discussion with the other member states.
"It is not a decision that has been made now. We have been clear about this for a long time. We have been discussing it in the Nordic region since August," Jensen said.
While Jensen admitted there would be challenges if Denmark left FIFA on its own, he believes there needs to be dialogue about the way forward.
FIFA's ban doesn't only extend to armbands - they also banned Belgium from using their warm-up kit because it was too colourful.
Fans are also not allowed in stadiums if they have rainbow-coloured items of clothing.
Germany protests FIFA's armband ban
The German national team have taken a stand against FIFA, by posing with their mouths covered during the team photo op.
Football's governing body banned teams from using the OneLove armbands during the game, threatening them with sanctions if they did so.
Sports Brief reported that teams like Germany, England and Denmark were just some sides planning to wear the armbands to protest discrimination.
Source: SportsBrief.com