Some few hours ago, the Labour party released its much anticipated manifesto, a 72-page document that was tagged "It's Possible: Our Pact with Nigerians." However, the content of the manifestos has been generating several reactions from different political parties' supporters and some candidates.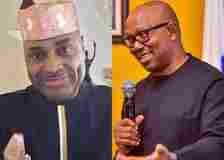 An actor, politician, and member of the Obi/Datti Presidential Campaign Council, Kenneth Okonkwo, reacted to this manifesto, noting that it contains a compendium of things that the presidential candidate of the Labour Party, Peter Obi, has been talking about in his different town hall series, meetings, and lectures in which he has taken part.
He acclaims that Peter Obi is a good marketing officer for the movement, as he possesses the capacity, competence, and capacity for good delivery. He made this statement while claiming that some of the other presidential candidates have been avoiding debates because they have no idea of the contents of their manifestos, which were written for them by paid writers.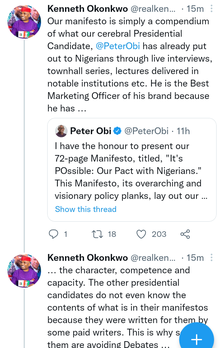 What can you say about this allegation raised by Kenneth Okonkwo about why some candidates don't attend debates?