The new Governor of Osun state, Senator Ademola Adeleke has recently alleged that the past administration looted some Government property at the Government House before he took over leadership in the state some days ago.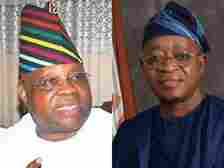 According to the report on Punch News, the present administration had released a video alleging that some items were missing in the Government House and quarters of some former political appointees.
Reacting to the allegation, the former Commissioner for Information and Civic Orientation in Osun state, Funke Egbemode, in a statement signed by the Oyetola administration knocked Adeleke's administration for what she described as a ridiculous allegation.
The former Osun commissioner said that it is ridiculous that Oyetola who completely renovated the Government House during his time as governor of the state would later stoop so low to loot the property. The Commissioner said that it is laughable and that the allegations say a lot about the present administration.
According to the report on Punch News, the statement partly reads;
"We have seen the very laughable claims by the government of the day about the Government House being looted by the previous administration. The extent they have gone to peddle their falsehood is so preposterous that discerning minds are beginning to ask how a governor who completely renovated the Governor's Lodge in June will stoop so low as to empty the First Aid box in the lodge."
Photo: Funke Egbemode.
"Accusing a man of Oyetola's pedigree of taking away a government house cooker and emptying bottles of methylated spirit takes away a lot from the accuser. It is beyond laughable, really. How exactly is Mr Oyetola guilty of this looting by 'unknown men' after he had vacated Government House?"