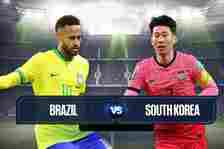 Brazil has failed to live up to the lofty expectations placed on them ahead of the 2022 World Cup. They did everything necessary to advance to the round of 16, where they will face the Republic of Korea on Monday for a spot in the quarterfinals.
Despite losing their final Group G game, Brazil finished first and will be looking to surpass Korea, who only qualified for this stage by winning their final Group H game.
Brazil is coming off a 1-0 loss to African giants Cameroon, and despite massive changes in the squad selection, Brazil was expected to win. They had chances, but Cameroon's backup goalkeeper Devis Mboka Epassy played well, making several big saves to keep the five-time world champions at bay. Brazil's loss was their first in 18 matches, and they now have to start over.
Brazil and Korea have met three times in friendly matches, all of which Brazil has won (5-1, 3-0, and 2-0), and even in their underwhelming form at this World Cup, Brazil will be expected to beat Korea.
Brazil has struggled to score goals in this competition, and all three of their matches have resulted in fewer than two goals.
KICKOFF TIME: Brazil versus South Korea match will go down on Monday at 8PM Nigerian time.