Lionel Messi's strike against Australia in the world cup quarterfinal is the 9th goal he has scored in the FIFA world cup since he made his debut in the competition during the 2006 edition. That goal means that he is now Argentina's second highest goal scorer in the history of the world cup.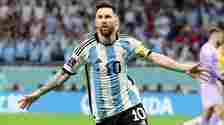 Argentina's highest goal scorer in the history of the world cup is Gabriel Batistuta who scored a total of 10 goals in the competition. Batistuta also bagged two hat-tricks as part of his goals and his record has not been threatened until now.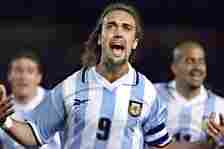 To match Batistuta's record, Messi has to score one more goal in the ongoing competition and with his form right now, it is hard to bet against him doing it. To be overtake Batistuta and outrightly take that place as Argentina's highest scorer in the world cup, Messi has to score two or more goals in the ongoing tournament.
If Messi wants to overtake Batistuta, he would have to do it in Qatar as this his probably his last world cup tournament before retirement. Right behind Messi in third place on that list is Diego Maradona who has 8 goals. Argentina take on the Netherlands in the quarterfinal on friday. Do you think Messi can overtake Batistuta in this world cup?.
Image credits: Google.