FIFA responded when Australian national team player Cameron Devlin was given the Argentina national team captain Lionel Andres Messi's shirt after the game.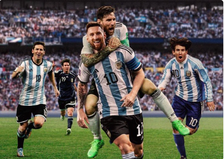 Lionel Messi was able to play one of his best games for the Argentina national team against the national team of Australia on Saturday at the FIFA World Cup in Qatar this year.
Lionel Messi began the attack for his team alongside Julian Alvarez, and the star forward for Paris Saint-Germain was able to score an incredible goal for the squad.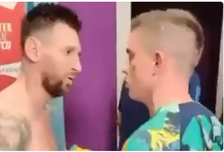 Enzo Fernandez's goal for Australia's national team gave them victory, whereas Lionel Messi and Julian Alvarez goals for Argentina's national team gave them an easy victory (own goal).
Cameron Devlin received his shirt right away after being awarded Man of the Match, as promised by Lionel Messi following the game.
Following the delivery of Cameron Devlin's shirt on Sunday as promised by Lionel Messi, FIFA responded by tweeting the following: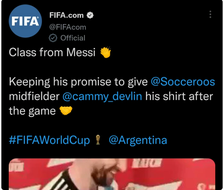 Messi shown class by handing Cammy Devlin, a member of the Australian national team, his shirt as promised after the game.