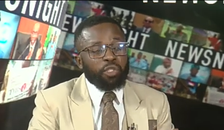 A Lawyer who is representing the Peoples Democratic Party in Plateau State, Emmanuel Menseh Madaki, has stated that PDP in Plateau State obeyed the court order which ordered the party to organize fresh congresses in some local governments which failed to take part in the first congress conducted in 2020.
Emmanuel Madaki made this known during an interview on Arise Television where he reacted to the sack of governor Caleb Mutfwang of Plateau by the Court of Appeal over PDP not having structure in the state. During the interview, Emmanuel Madaki said, "it was shown that 17 local governments participated, but for legal reasons which conforms with the party's Constitution, some local government executives were excluded because of some legal issues in those places."
"They used ad-hoc delegates in those local governments. They also used special delegates in those local governments as provided in the Constitution. Therefore, it leaves you with the simple signification that all the 17 local governments participated in the repeat Congress. None was excluded and that report is before the tribunal."
[Watch From 7:33]